The Secrets to Financial Freedom Revealed
I reached financial freedom a few years back and I have written a book about it. I thought the book was pretty good, but it was terrible. It was all over the place. There were redundant sentences, bad grammar and rubbish dressed up to sound like something useful. All in all, it wasn't good enough to throw in the trash can.
What to do? Give up? Pay someone to do it for me? Give up (did I say that twice?). None of the above. I decided to do something about it. If I had known how much time and effort it would take over the last 4 years I'm not sure I would ever have started. But start I did and now hopefully, I have finished something I am proud of. Like a dad with his new baby girl (I just threw that in there because I had another baby recently). That's number 5!
Anyway, I want to give you the book. Why? Well, I would love if you could give me your honest feedback about the book. If I use your feedback, I will give you a copy of the book with a page added to acknowledge your help.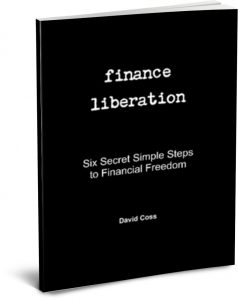 Why do you want to retire when you are old when you can retire years or even decades earlier?
This book reveals the "finance liberation" model, a secret six step process that sets you up for financial freedom in a short amount of time
.
This step by step guide to financial freedom teaches:
- How David and family managed on one low wage to become
financially
free in a few short year
- How to travel around the world and still gain wealth
- How to achieve your personal dreams as well as your financial ones
- The one key to success in every area of your life.
Get the book for free here:
Mentoring Option
I want to offer you one-on-one mentoring with me to help on your financial freedom journey. It will be a total of 3 hours. The initial call will be a free 30 mins consultation to discuss your situation and to find out if we can work together. Please read the book first as this is definitely not for everyone. There are limited spots available.